The Ultimate Everything Course (UEC)
AST 2 + Glacier Travel + The Art of Up-tracking courses !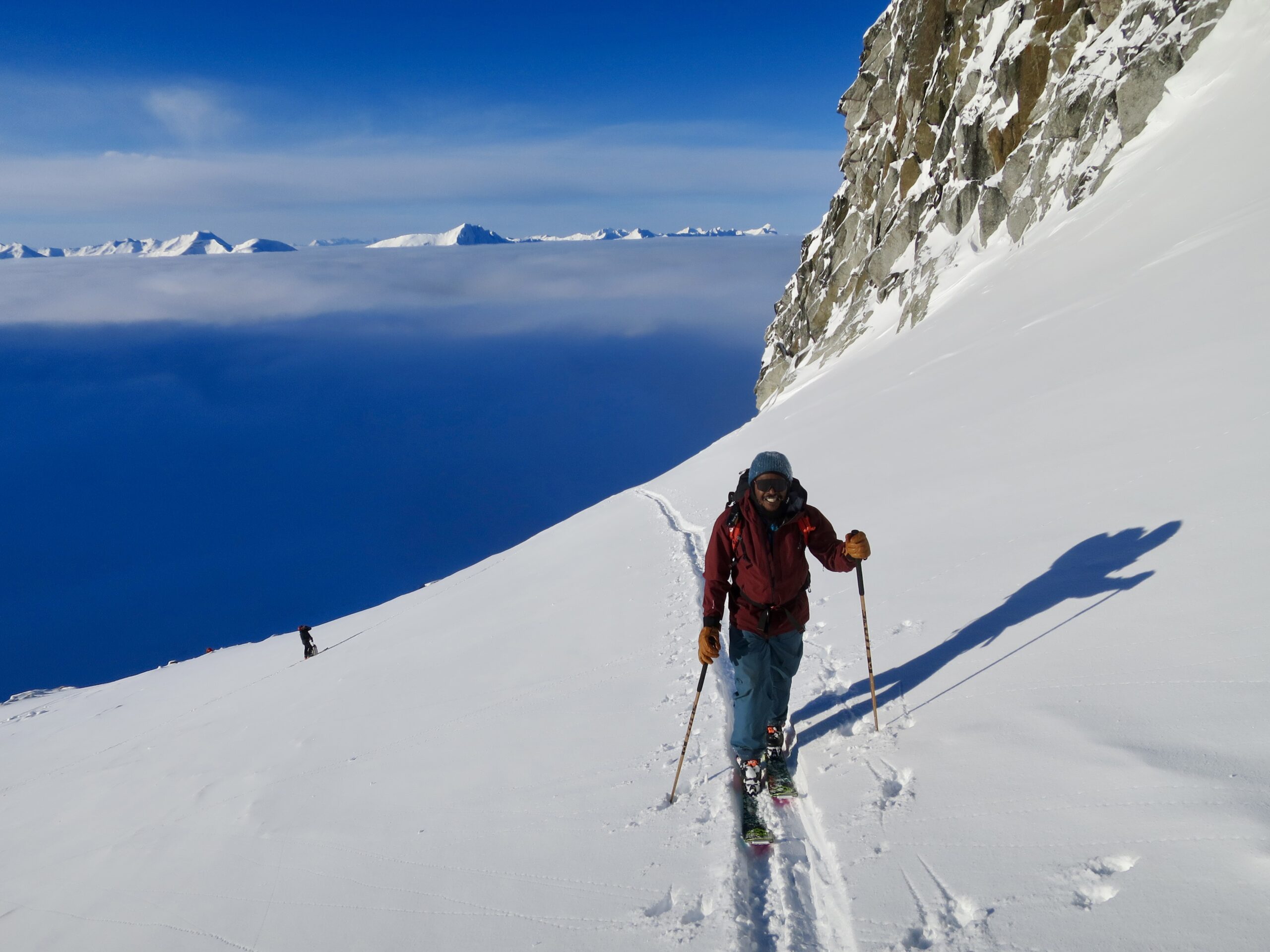 ---
"The week was way beyond expectations!" (Mathieu, 2023)
---
During the Ultimate Everything Course, we will spend most of our time ski touring and learning along the way. We try to have students leading as much as possible while monitoring our exposure to hazards and searching for learning opportunities. This course is a great way to learn a lot in a short period of time, setting you up for your own adventures or even becoming a guide.
---
Location - Snowfall Lodge
Snowfall Lodge is a remote heli-accessed lodge nestled in the Battle Range, South West of Rogers Pass in the Selkirk Mountains. It has a deep snowpack with granitic peaks and glaciers to explore.
You will get a LOT more out of this course location compared with Rogers Pass. Once once we arrive, there will be 7 days with no driving, no valley bottom slogs, no tracks to follow, and amazing food prepared by a professional.
---
"This course is definitely a game changer for me!"  (Inka, 2021)
---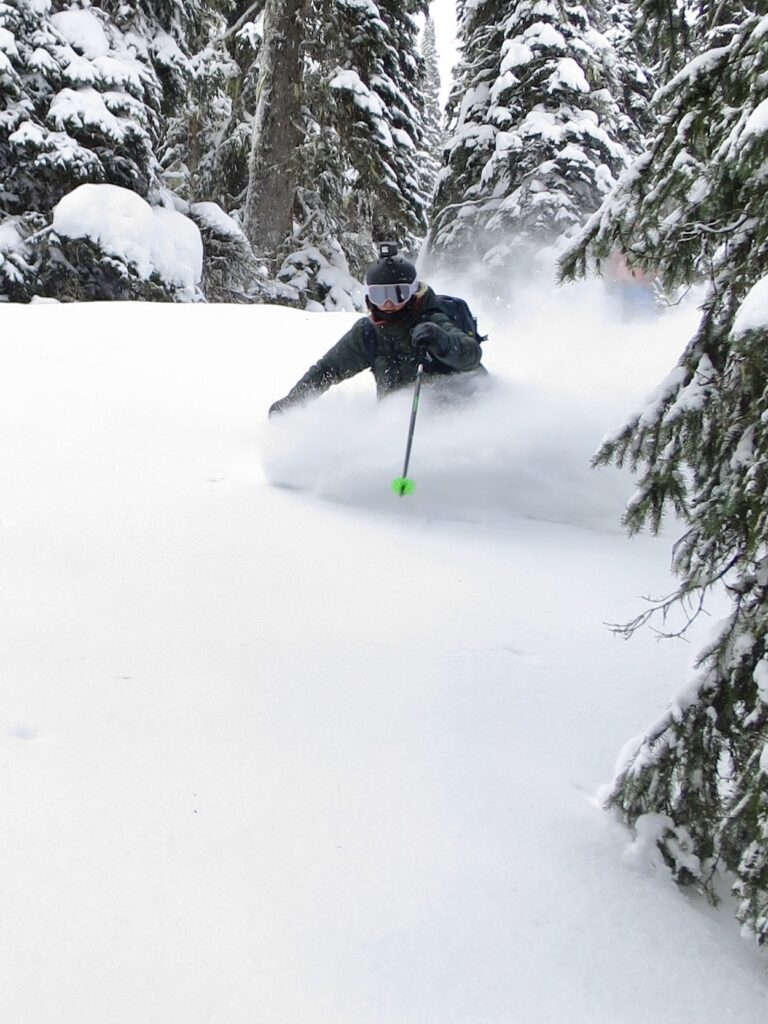 Itinerary - UEC
Day 1: Fly into the lodge, Avalanche Rescue Practice and AST 2 classroom session including Snow Science.
Day 2: Full day of ski touring with students trip planning and leading.
Day 3: Full day of ski touring with students trip planning and leading followed by a classroom session on glacier theory.
Day 4: Full day travelling on glaciers and skiing.
Day 5: Crevasse Rescue practice.
Days 6-7: Putting it all together with students collaborating to plan and lead trips.
Day 8: Fly home from the lodge.
The weather, conditions and group ability will determine the ratio of glacier/tree skiing. If it's a sunny week, expect to spend most of the time in the alpine on glaciers. If it's stormy, we'll probably spend most of the time in the trees avoiding avalanches. Please note we may alter the itenerary to suit the weather and conditions.
---
"It was an amazing week!! My friends and I are so stoked and motivated after this whole week of learning" (Bambino, 2021)
---
Guides/Instructors - UEC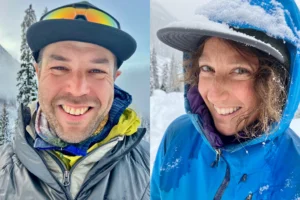 Click here for more about Alex Geary and Madeleine Martin-Preney
---
Prerequisites - UEC
Over 19 years old or accompanied by a parent.
Strong ski/snowboard skills to manage navigating crevasses and steep trees.
Good fitness to access glaciated terrain.
At least 20 days experience ski touring.

AST 1

or equivalent training and experience.
---
Skills you will learn - UEC
Glacier Travel
When and how to use rope(s)
Glacier formation and features
Anticipating and avoiding crevasses
Recognizing crevasses in poor light
Travelling on a glacier in a white-out
Snow anchors
Crevasse rescue techniques
Avalanches
LOTS about decision making and how to avoid avalanches. Please see the AST 2 page for more details.
Up-tracking
How to make an efficient track in all conditions. Please see more details here
---
The Ultimate Everything Course Dates
December 16-23rd 2023 - Snowfall Lodge 2023 - FULL
7 nights at 6:1 ratio
$2990 + 5% GST (Canadian Dollars)
---
Please make sure you have read through the booking conditions before making a payment. This includes completing the Waiver and Registration Form.
E-Transfer to [email protected] is the preferred method of payment. Please contact us for alternate payment methods.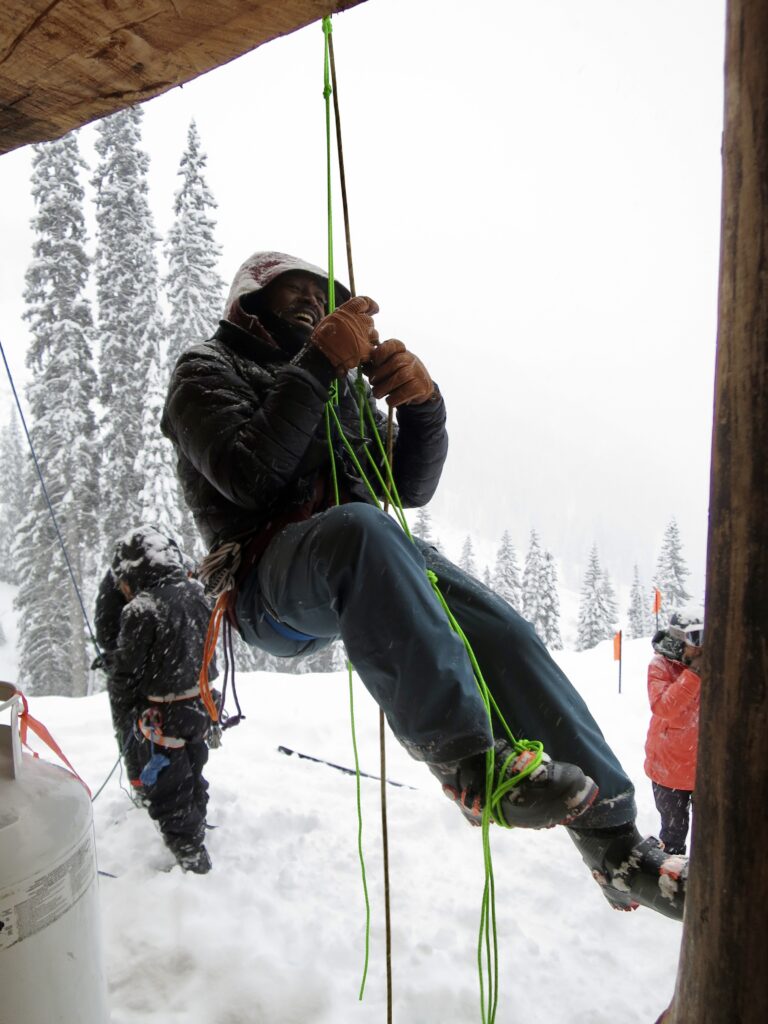 Included
Accommodation and food/cook

Return Helicopter flight

7 days of guiding/instruction at 6:1 ratio with ACMG Ski/Mountain Guides

AST 2 Course

Glacier Travel Course

The Art of Uptracking Course with digital handbook

Ropes
Excluded 
Travel to and from the staging area

Personal glacier travel equipment

Accommodation in Revelstoke

Lunch on day 1

Extra expenses incurred due to dietary requirements (please contact us well in advance so these can be accommodated)
Equipment list - UEC
Shovel

Probe

Transceiver (3-antenna)

Ski touring skis or splitboard

Skins

Personal repair kit specific to your equipment

Ski touring boots/snowboarding boots

Ski poles

Headlamp

Goggles

Sunglasses

Personal first aid supplies including blister kit

Toque

Minimum 1L water bottle or Thermos (no water bladders as they freeze or leak in the cold)

Gore-tex (or equivalent) jacket

Gore-tex (or equivalent) pants

Puffy jacket

Warm layers for upper and lower body adequate for below freezing temperatures and wind

Thick gloves

Spare gloves

Lightweight harness (if possible otherwise climbing harness will work)

3 locking carabiners

4 non-locking carabiners

240cm sewn sling (or 5m of webbing)

5m x 6mm accessory cord

Personal prussik (1.8-2m of 6mm accessory cord works well, or a hollow block or another specifically designed cord)

Micro-traxion or Nano-traxion (optional)

Tibloc (optional)

Ice screw (between 12-22cm)

30-40L backpack

Indoor clothes

Lunch for day 1

Avaluator 2 (can be shared amongst participants)

Ski crampons