About Us - The Guiding Team
Gearys Guiding only has two guides; ACMG/IFMGA Mountain Guide Alex Geary, and ACMG Ski, Hiking and Apprentice Rock Guide Madeleine Martin-Preney. We like to keep it small so we can offer the highest quality service possible. We've been living in Revelstoke since 2010, which we chose because of the amazing ski touring and climbing in the surrounding mountains.
We have been guiding ski touring cumulatively for over 25 years, including 10 years guiding together. We enjoy long aesthetic runs and loops with guests, while keeping the risks at a level that is comfortable for our entire group. We both have a background in teaching and instructing, so whether you take a course or join us for a guided adventure, we like to share our thought processes and work as a team with everyone in our group to maximize our safety and enjoyment. Whether you like a short climb or two with mellow powder runs, or ski over 2000m/day, or ski steep and technical lines, or ski from the summit of high altitude peaks, or big traverses, we like to do it all. When we're not guiding for Gearys Guiding, you can usually find us working at one of the huts for Icefall Lodge or adventuring somewhere for fun.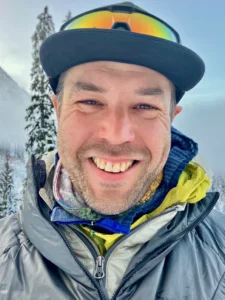 Alex Geary
I'm an ACMG/IFMGA Mountain Guide based in Revelstoke, BC since 2010.
I started my guiding career in 2006, cat-skiing in the Chilean Andes. I've been guiding climbing and ski touring pretty much full-time since 2010, including about 100-120 days of ski touring every season, comprised of teaching and guiding.
Before guiding, I worked as a ski instructor and became certified by the ISIA (CSIA 3 equivalent), trained other instructors, coached racing (CSCF 2) and freeriding. I've also guided heli-skiing, worked as a Public Avalanche Forecaster, Ski Patrol Manager (including running an avalanche control program with explosives), and a Mountain Safety Specialist for the mining industry. Before guiding I was a Mechanical Engineer, although I find guiding much more rewarding.
I guide mostly in Canada, but I love to visit new places and have also guided in Chile, New Zealand, Europe, Australia and Nepal. When I'm not guiding I'm usually spending time with family or skiing/climbing for fun.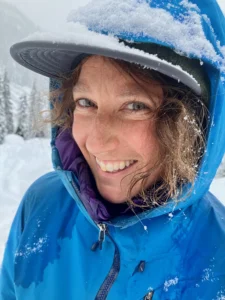 Madeleine Martin-Preney
Madeleine Martin-Preney is an ACMG Ski Guide, Hiking Guide and Apprentice Rock Guide. Madeleine grew up in the Selkirk Mountains in Nelson, BC, before moving to Revelstoke in 2009. She spends as much time as she can moving around in the mountains skiing, climbing, hiking and running. She has been part of many big adventures such as a kayak/ski trip from the Gulf Islands to the Whitemantle Range, and she was part of the first team ever to complete the full ski traverse of the Selkirk Mountains (520+km and 43,000+m elevation gain). She also has experience travelling in the mountains in India, The Yukon, The European Alps, The Andes, and many remote parts of Canada.
Madeleine's strengths shine through when she's instructing, which she has developed from many years teaching avalanche and ski touring courses, trips for Outward Bound, youth education for Avalanche Canada, becoming certified as a Yoga Teacher, a Life Coach, and examining for the ACMG Training and Assessment Program (TAP).
Check out the film Mind Over Mountain to see Madeleine in action on the Bugaboos to Rogers Pass Traverse in 2021. We worked together on this film in conjunction with Sweetgrass Productions and Patagonia Films.
If you need a guide to show you around Revelstoke or further afield, or you have something you want to learn about the mountains, please let us know and we will look forward to meeting you and another great adventure!
Alex and Madeleine