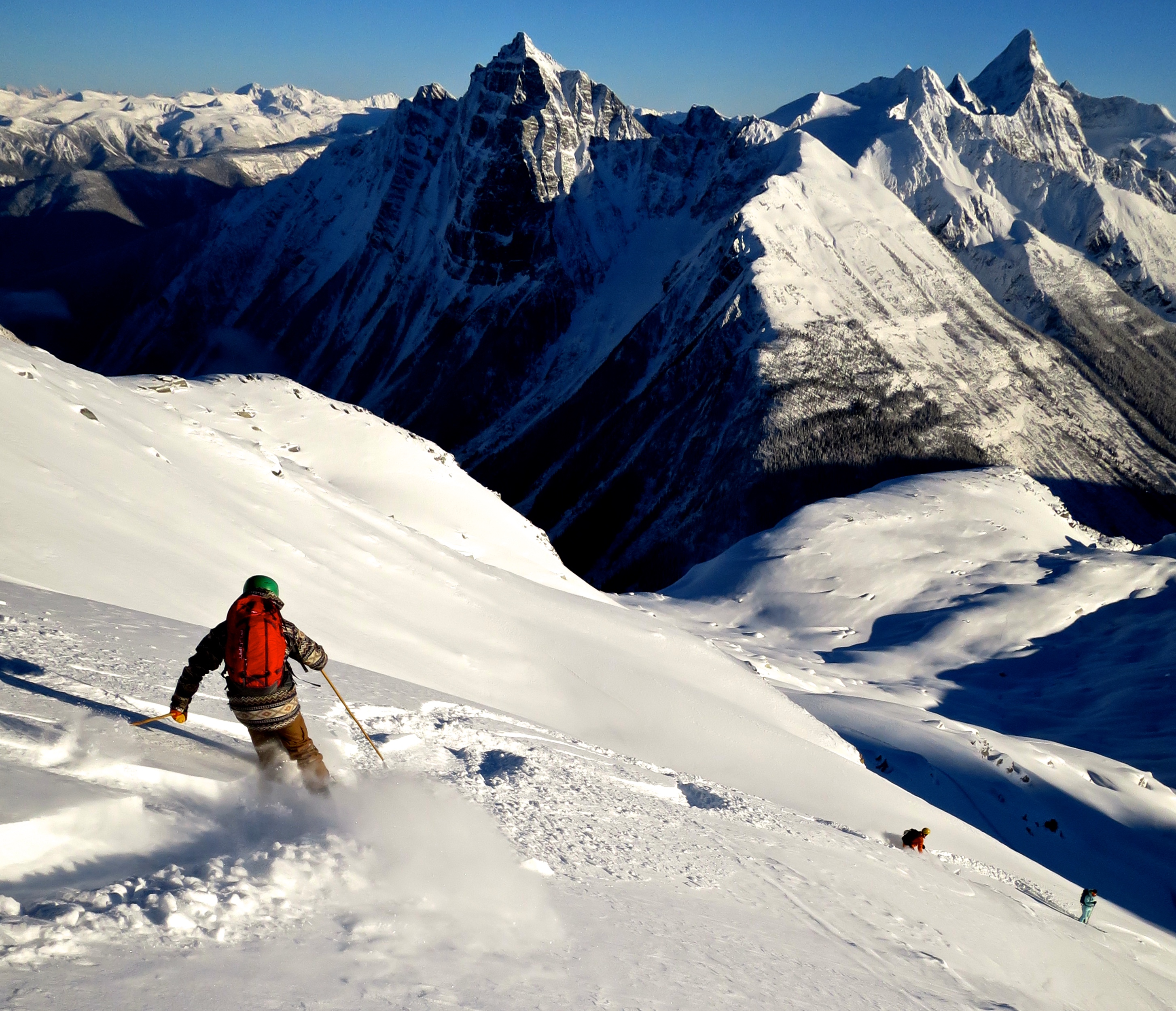 Is the AST 2 Course for you?
I have designed this AST 2 course for fit ski tourers/splitboarders, so we can maximize the terrain we can cover in Rogers Pass Pass, and also get some awesome skiing in. The Prerequisites are therefore a bit more stringent than your average AST 2 course. Objectives in the past have ranged from "High" avalanche danger days avoiding all avalanche slopes on Fuzzy Knob (Mt Macpherson), to "Low" avalanche danger days on the North Face of Mt Green (Rogers Pass) with a competent group. The objectives on your course will depend on the conditions and group fitness/ski ability level. We won't push you to do anything you're uncomfortable with, and we won't let you go anywhere we feel uncomfortable with.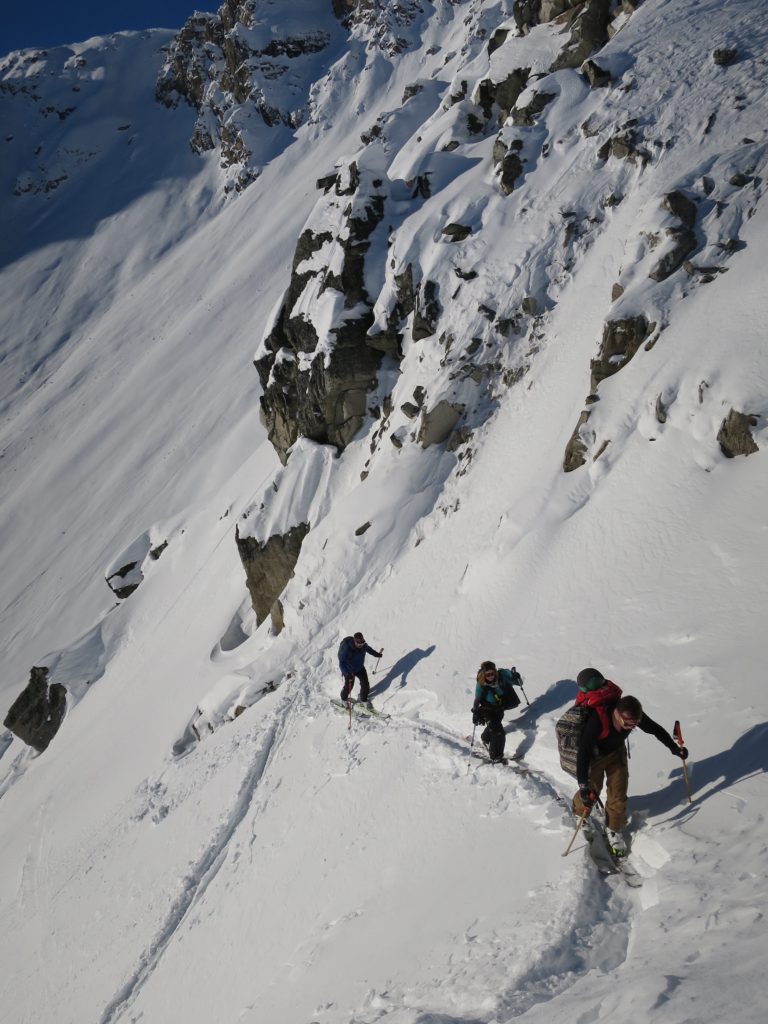 Sometimes people ask me about whether it's better to take the CAA Level 1 Operations course instead of the AST 2..... If you're not planning on working in the avalanche industry; and would prefer to learn how to manage risk moving through the mountains than doing paperwork, then I recommend the AST 2 course. We spend a lot more time ski touring and assessing terrain (and it's much cheaper 😉
Please click here for more information from Avalanche Canada about AST courses.
If you've completed an AST 2 in the past and are thinking about refreshing or furthering your learning, please check out the Advanced Avalanche Course (like an AST 3)
---

Guide/Instructor
This course will be taught by Alex Geary or Madeleine Martin-Preney, both certified by the ACMG and have been living in Revelstoke since 2010.
---
Itinerary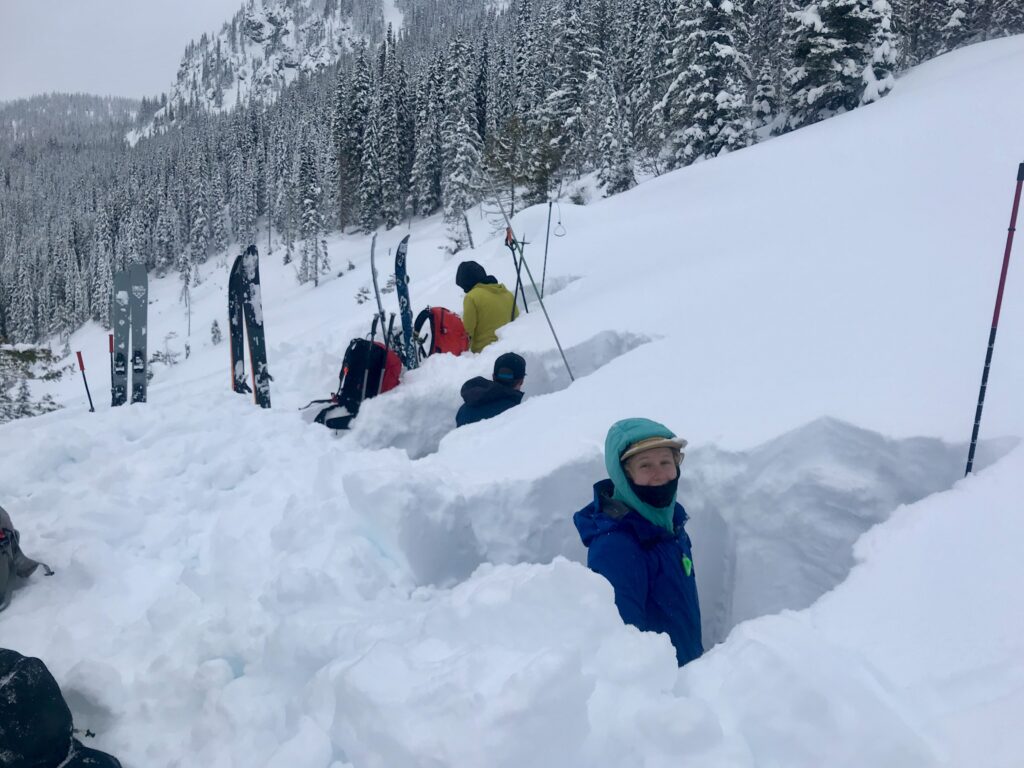 Day 1 is mostly online classroom based, with a couple of hours outside in Revelstoke for avalanche rescue training. We'll meet online at 8:30am, where we'll go through the theory and planning to get ready for our 3 field days. We'll be finished by 5:30pm.
Days 2-4 will be full days in the field led by you, with short evening sessions on days 2 and 3 for trip planning. We will probably spend most of our time at Rogers Pass, but we might also visit Mt MacPhearson, The Gorge, or other local areas depending on weather and snow conditions.
---

Prerequisites
Over 19 years old (unless accompanied by a parent)
20 days experience ski touring/split boarding
Confident skiing/riding expert terrain at a typical ski area (eg. Double Black Diamond runs at RMR, Whistler, Kicking Horse)
Able to climb 1500m vertical per day
This will allow us to access interesting terrain in early season conditions to maximize learning opportunities. If you are unsure of your ability please send me an email.
---
AST 2
December 1st - 4th 2022
$749 + 5% GST
(see the Ultimate Everything Course for December 10th - 17th)
---
Please make sure you have read the booking conditions and signed the waiver before making a payment. Email money transfers to gearysguiding@gmail.com are the preferred method of payment (please remember 5% GST), otherwise please use the button below.
If you have a group of 6 people and the above dates don't work for you, please contact us and I will do my best to schedule an additional course.
Equipment
Please bring the following:
Skis or splitboard with touring bindings and skins that fit. (Snowshoes are not permitted).
Ski crampons MAY be required for April courses.
Ski/snowboard poles
Ski/snowboard boots compatible with your setup.
Digital Avalanche Transceiver
Avalanche Probe
Avalanche Shovel (must be collapsible)
Daypack (~30L).
Lunch and snacks
Water or thermos bottle (recommend 1-1.5L)
Headlamp
Personal 1st aid kit (blisters, band-aid's etc.)
Warm and weatherproof clothing for moderate periods of inactivity in the mountains.
Gloves
Goggles
Sunglasses
Avaluator 2 (can be shared with another participant)
Map for Rogers Pass (can be shared with another participant)
Compass (can be shared with another participant)
Staying Alive in Avalanche Terrain, Bruce Tremper 2001 (Recommended)
Annual Winter Permit for Rogers Pass
National Parks Pass for Rogers Pass
If you need to rent equipment, Powder Rentals in Revelstoke have shovels, probes, transceivers, touring skis with skins, splitboards with skins, poles and boots. They offer a 10% discount to course participants. You can call them at 250-814 4POW (4769) or visit their website.